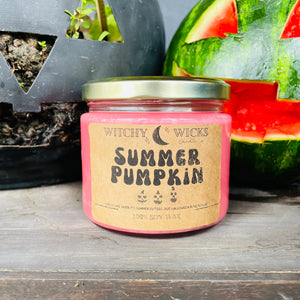 When it's summer outside, but it's always Halloween in your heart 💚🩷

Our summer pumpkin candle smells of the ripe sweetness of watermelon. When there is no end in sight of the endless hot summer days the first bite of juicy, dripping melon will remind you it can always be Halloween if you just make believe.

CANDLE CARE:
Your candle has a memory. Allow it to burn for a few hours the first time you light it to create an even "melt pool" across the top. This ensures that your candle burns evenly and for its full life. Trim the wick to 1/4" each time you light for a clean burn. Always burn within sight, and keep away from flammable objects, children and pets.