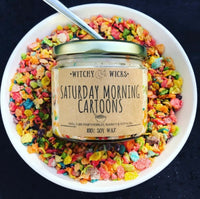 All Time Best Seller
Our Saturday Morning Cartoon Candle has been featured on Pioneer Woman and Buzzfeed and is one of our personal Favorites!
WHO ARE WE??
Est 2015
What started as a hobby turned into a passion & I bottled my creativity..quite literally.
I am just a small town daydreamer with a love for all things fantasy, adventure & spooky. 
Because of my extreme respect for Mother Nature, all of Witchy Wicks products are eco friendly. I am continually looking for ways to make our environmental footprint as Elfish as possible.
Return Policy
There are no returns or refunds accepted unless a item arrives damaged.