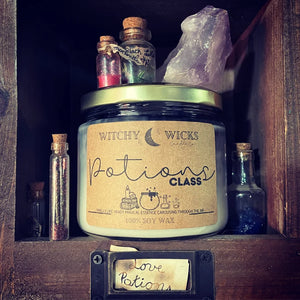 I can teach you how to bewitch the mind and ensnare the senses. I can tell you how to bottle fame, brew glory, and even put a stopper in death..
Scurry down to the dungeons & let potent, heady blend of sweet, spicy, and earthy notes that's infused with cedarwood, orange, clove, and patchouli essential oils.
CANDLE CARE:
Your candle has a memory. Allow it to burn for a few hours the first time you light it to create an even "melt pool" across the top. This ensures that your candle burns evenly and for its full life. Trim the wick to 1/4" each time you light for a clean burn. Always burn within sight, and keep away from flammable objects, children and pets.