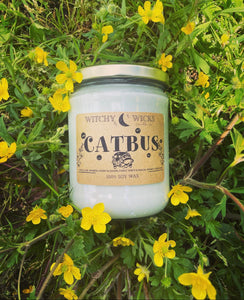 Let the delicate notes of blooming cherry blossoms infused with magnolia and rose wisp through your hair as you gaze on fields of fresh green grass from high above aboard the Catbus.
It just might lead you the spirit of the forest himself.


CANDLE CARE:
Your candle has a memory. Allow it to burn for a few hours the first time you light it to create an even "melt pool" across the top. This ensures that your candle burns evenly and for its full life. Trim the wick to 1/4" each time you light for a clean burn. Always burn within sight, and keep away from flammable objects, children and pets.