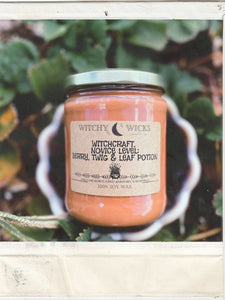 Some of you did not spend your childhoods making potions out of random leaves and berries and twigs and just throwing them all in a tub of water and stirring it with a big stick you found and it shows.
🧙‍♀️ 💜✨

While you may be a beginner at best this scent is far from novice.
Light this baby up & fall into a captivating blend of honey, spices, and tobacco leaves, with a smooth woody base. Hints of bergamot and herbal coriander give way to honey and amber. Tonka bean adds a touch of vanilla that complements the bold honey. Resinous oud wood, musk, and tobacco leaf ground this fragrance with an earthy base.

CANDLE CARE:
Your candle has a memory. Allow it to burn for a few hours the first time you light it to create an even "melt pool" across the top. This ensures that your candle burns evenly and for its full life. Trim the wick to 1/4" each time you light for a clean burn. Always burn within sight, and keep away from flammable objects, children and pets.