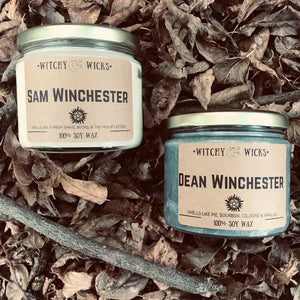 ****NEW UPDATED DEAN SCENT****

With this order you will receive BOTH a Sam & a Dean Winchester Candle!

So... which brother will it be? Dean: the brooding, wreckless, protective, pie, burger, and beer-loving sexy hunk of a man (even after spending a little time in Hell) .....Or Sam: the tall, athletic, clean cut, health-conscious, book-smart and handsome as hell (with or without his soul). Two brothers faced with a daunting task, to save the World as we know it, so different, yet so alike.... •
•

Dean's candle is as complex as the man himself... starting off with the most desirable, sexy, fresh cologne scent, made up of an invigorating blend of sage, bergamot spice & leather woods mixed with coconut pie scent (of course) made up of shredded coconut, whipped butter, with notes of Tahitian Vanilla and clove, rounded off with a shot of Bourbon (of course!!) Mmmm 😍

•
Sam's candle smells like the quintessential man's man. You know, that delicious scent right when your man walks out of the shower? It has a sexy base of a deep, musky amber wood, with lighter notes of bright citrus, bergamot, and sea salt, & to round it out, just a hint of worn leather. 🤤•
•
So, what'll it be? Dean or Sam??.... or both 😜 ? We won't tell. 🤫



CANDLE CARE:
Your candle has a memory. Allow it to burn for a few hours the first time you light it to create an even "melt pool" across the top. This ensures that your candle burns evenly and for its full life. Trim the wick to 1/4" each time you light for a clean burn. Always burn within sight, and keep away from flammable objects, children and pets.