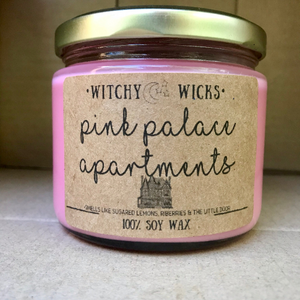 "Surprised she let you move in. My gramma, she owns the Pink Palace.
Won't rent to people with kids."
I'm Wybie.
Wybie Lovat.
Short for Wyborne."

The scent for our Pink Palace Apartments Candle is just magical as the mystery lurking within the pink palace! Riberries has a tart, cranberry-like flavor, with a hint of cloves & citrus notes of sugared lemon blended with sandalwood and floral orchid


CANDLE CARE:
Your candle has a memory. Allow it to burn for a few hours the first time you light it to create an even "melt pool" across the top. This ensures that your candle burns evenly and for its full life. Trim the wick to 1/4" each time you light for a clean burn. Always burn within sight, and keep away from flammable objects, children and pets.