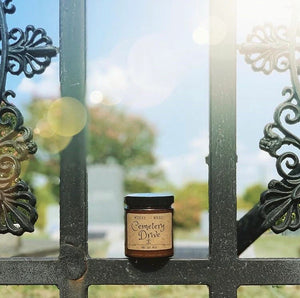 They say there's no place like home
& I would have to agree
I love the watching the ancient willow trees wisp in the wind..& the wide array of flowers.
I love the smell of juniper berries, fresh eucalyptus, sage, a tiny bit of woods, sweet spearmint & dew mixed in.
I love the intricately designed iron wrought fence surrounding my yard.
My neighbors are a bit bland..not much life in their eyes.
But I can't complain.
Except for the dirt that's always getting into my bed..I can't seem to keep it out.
But I love the way the moon reflects off all the tombstones as I chase the mischievous trespassing teenagers...to their death. I always cross my fingers that they will forgive me when they move in next door...
But all in all...there is no place like cemetery drive.
💀




CANDLE CARE:
Your candle has a memory. Allow it to burn for a few hours the first time you light it to create an even "melt pool" across the top. This ensures that your candle burns evenly and for its full life. Trim the wick to 1/4" each time you light for a clean burn. Always burn within sight, and keep away from flammable objects, children and pets.