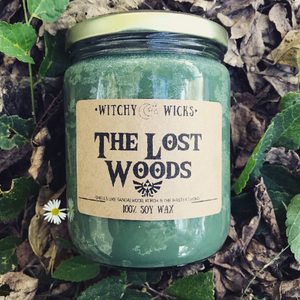 Warning..they are called the Lost Woods for a reason! Round & round & round you will go! Which path to take? No body knows!
Join Link on this seemingly impossible quest. I'll let you in on a secret..follow the music
Fill your home with the delicious scent of sandalwood & cedar wood just like you stepped right into The Lost Woods with Link.

CANDLE CARE:
Your candle has a memory. Allow it to burn for a few hours the first time you light it to create an even "melt pool" across the top. This ensures that your candle burns evenly and for its full life. Trim the wick to 1/4" each time you light for a clean burn. Always burn within sight, and keep away from flammable objects, children and pets.