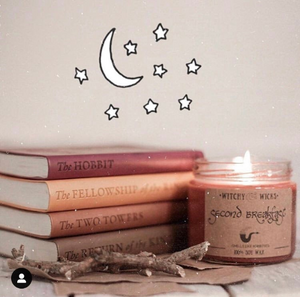 Gentlemen! We do not stop 'til nightfall."-S
"What about breakfast?" -P
"You've already had it." -S
"I've had one yes. What about second breakfast?" -P
"I don't think he knows about second breakfast, Pip'." -M
"What about elevenses? Luncheon? Afternoon tea? Dinner? Supper? He knows about them, doesnt't he?" -P
"I wouldn't count on it." - M


I must be a Hobbit because even I know Second Breakfast is the most important meal of the day.
Light this candle & travel to the inviting, coziness of a hobbit-hole nestled in the Shire.
The aroma of oatmeal and sweet cream butter, cinnamon, raisins, and honey, with notes of vanilla, brown sugar, and maple will be sure you don't forget about second breakfast!


CANDLE CARE:
Your candle has a memory. Allow it to burn for a few hours the first time you light it to create an even "melt pool" across the top. This ensures that your candle burns evenly and for its full life. Trim the wick to 1/4" each time you light for a clean burn. Always burn within sight, and keep away from flammable objects, children and pets.